Buy 2 pcs 40*50cm Kits Get 10% Off
#1 Paint by Numbers Kits in Malaysia
You can paint a beautiful masterpiece even with no artistic talent, all you need is a Metime Art paint by numbers kit!
---
– Editor's Highlight –
---
– Find Our Stores –
---
– Collection List –
– Shop by Category –
---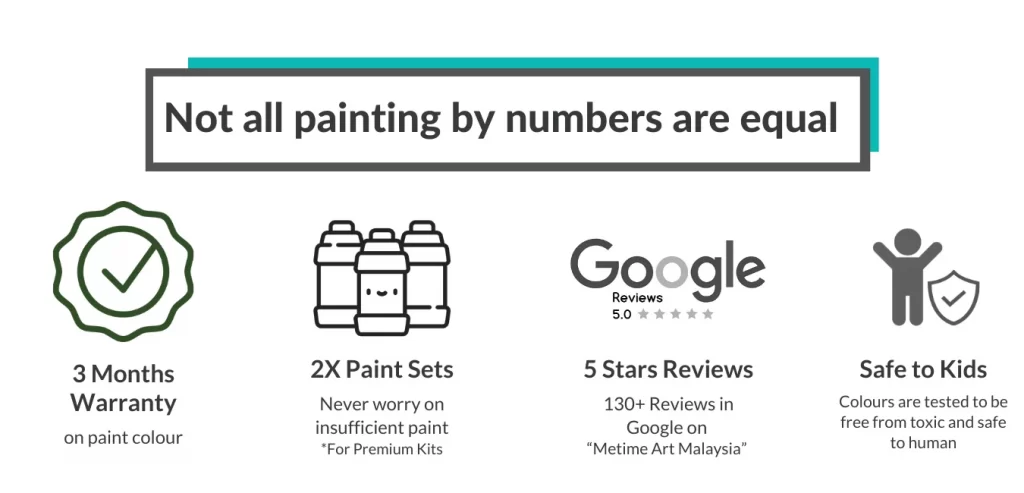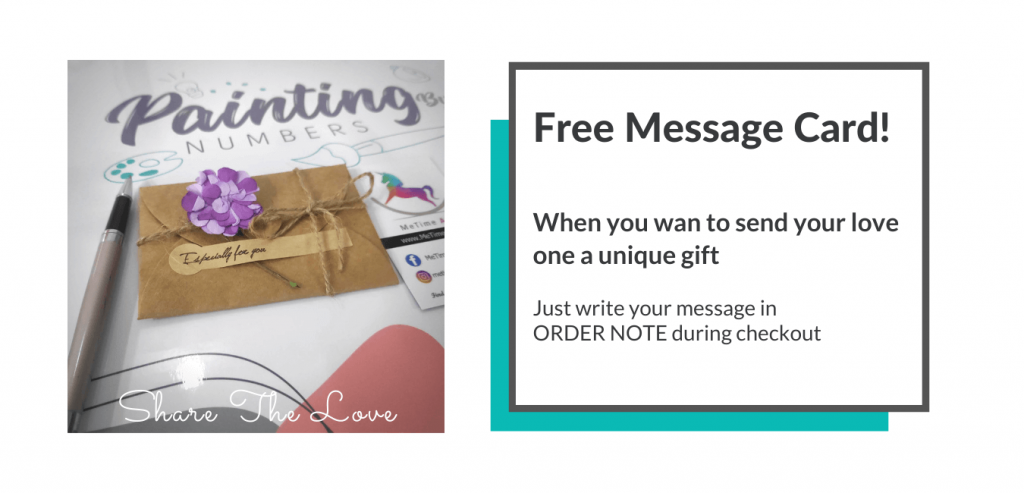 ---
– What customers say about us –
For someone like me, I admit I've absolute no talent in painting! 😅 Therefore, I was intrigue that I too can enjoy some brush strokes by numbers, and perhaps one day... read more when I do finish the piece I picked up, due to my busy schedules lately, I still find that "Paint By Numbers DIY" pieces are great as start off as a so -called "artist'' if one may describe as such! Some may classified it as unauthentic, whichever, most importantly, what is the end result and what did/does it brings or learned along the way. It's not about what others think that matters. So the question to oneself is: Did it bring peace of mind, such as a smile on your day? Because to me it's quite therapeutic, that is my humble opinion! I also feel, it's suitable for all ages. I picked that one piece up from the seller because of MCO, I didn't meet her personally at her resident, our conversations over the phone was swift, clear explanation, friendly, and down to earth person. 👍❣ Keep up the good work!

m o i


Order through Online. Seller is quick to rectify the 'Out of Stock' issue. On top of that, seller is willing to go an extra mile to attach a birthday note... read more with my purchase. It was a pleasant experience. Thanks!

Jo Anne


Ms. Summer was very good to deal with. Very patient with my questions. The kit came packed really well and quality looks excellent. Also good to support our local... read more business during this time. Update. The custom picture we painted turned out excellent. The colours were good. Highly recommended even for beginners.

Nicholas Achariam


Very prompt service; I received my kit within two days of ordering. Canvas and paints were of good quality and the numbering was clear and easy to follow. Very happy... read more with the purchase and considering buying more.

Michelle Tan


I bought 2 40x50 kits and 3 20x20 kits (with 1 free 20x20 kit due to a promo). I also bought an easel for easier painting. Love that the free delivery... read more was super fast in just 1 day! The seller even texted me to inform me that they are sending the package over which I find courteous and a nice touch. Also love the canvas texture and that they are all framed, makes it easy to paint. I don't have any worry of finishing the paint provided as they were in abundance, and the assurance from the seller in clear step-by-step instruction is very helpful! Love that they include advanced steps too! Some of the paint-by-numbers kits I bought (the 40x50 ones) had an extra sheet of paper which acts like a guide which was also very helpful for me in the case that I accidentally paint over a space with the wrong colour. Overall, very satisfied with my purchase from this shop and I will definitely come back for a repeat! Hopefully, more choices to come soon especially for place, nature and flowers categories. Thank you so much!

Sarini B


Good responsive communication by email, which helped determine the picture quality. The product was received in about 3 weeks, as they promised, is packaged well and looks great. Now to... read more paint!

Steven Smith

---
– Featured In –
---
– Organisations We Served –

---
Why Should You Try Paint by Numbers Kits?
If you are beginner in painting
If you like to be artistic, but don't have the creative DNA in you. You will create an awesome painting with paint by numbers kit. It is nicely numbered and clear enough to see what colour to use. This paint by numbers kit helps you a lot to learn painting as a beginner.
With The Easy-To-Follow Method, You Can Create A Beautiful Artwork For Your Home, As A Gift and Even To Show Off.
If you are painting enthusiast
If you are painting enthusiast, you would have so much as much as relax feeling by doing to this after long day at work. The acrylic colors of painting are just beautiful! Richly colored acrylic paints dry quickly and no mixing is needed. You will love to see your finished work hanging up at your room.
If you looking for a stress relief hobby
Painting has a relaxing effect that can be beneficial, even it is practiced as a therapy to relieve stress. You are so focused on the painting and colors that you forget those problems you used to stress over so much. The repetitive movement you make as painting allow your mind rest and calm down. Having a clear objective and focus to accomplish it helps you to get rid of any negative emotion while you paint.