40cm x 50cm DEALS – Buy 2 pcs and above you get 10% OFF
#1 Paint by Numbers Kits in Malaysia
You can paint a beautiful masterpiece even with no artistic talent, all you need is a Metime Art paint by numbers kit!
---
– Editor's Highlight –
---
---
---
– Collection List –
– Shop by Category –
---
– Here's what customers said –
Ms. Summer was very good to deal with. Very patient with my questions. The kit came packed really well and quality looks excellent. Also good to support our local business during this time. Update. The custom picture we painted turned out excellent. The colours were good. Highly recommended even for beginners.

Nicholas Achariam


Addictive! Can't wait to get more new pieces. Summer was very prompt in replies and am so glad to have stumbled upon the FB ad. Brb.Will be browsing for my next masterpiece! ☺️

Janet Siow


Very prompt service; I received my kit within two days of ordering. Canvas and paints were of good quality and the numbering was clear and easy to follow. Very happy with the purchase and considering buying more.

Michelle Tan


Great experience, fast service, and prompt delivery! Owner is extremely helpful when my paints dried out and at no charge at all, she had arranged a courier to pick up and deliver the paint. Have repurchased up to 3 times now and I will definitely be buying again!

Nurfaiqah Ramli


For someone like me, I admit I've absolute no talent in painting! 😅 Therefore, I was intrigue that I too can enjoy some brush strokes by numbers, and perhaps one day when I do finish the piece I picked up, due to my busy schedules lately, I still find that "Paint By Numbers DIY" pieces are great as start off as a so -called "artist'' if one may describe as such! Some may classified it as unauthentic, whichever, most importantly, what is the end result and what did/does it brings or learned along the way. It's not about what others think that matters. So the question to oneself is: Did it bring peace of mind, such as a smile on your day? Because to me it's quite therapeutic, that is my humble opinion! I also feel, it's suitable for all ages. I picked that one piece up from the seller because of MCO, I didn't meet her personally at her resident, our conversations over the phone was swift, clear explanation, friendly, and down to earth person. 👍❣ Keep up the good work!

m o i


Order through Online. Seller is quick to rectify the 'Out of Stock' issue. On top of that, seller is willing to go an extra mile to attach a birthday note with my purchase. It was a pleasant experience. Thanks!

Jo Anne


They replied to the questions I asked patiently. Besides that, they delivered the goods quickly and received in good conditions. I'm enjoying with the painting now! 😍😍

Yeong Jacqueline


Lovely quality. Super quick delivery! Great project for our time in isolation. Thank you.

M Lee


Loved the product very well and you get what you paid for. Haven't finished mine but enjoyed every moment doing it. Wish the brush is a wee bit higher quality but otherwise it's manageable. The owner is also very kind and accommodating when I missed my delivery. Will purchase it again when I want to do more projects 🙂

Edelyn Nazri

---
– Completed Paintings –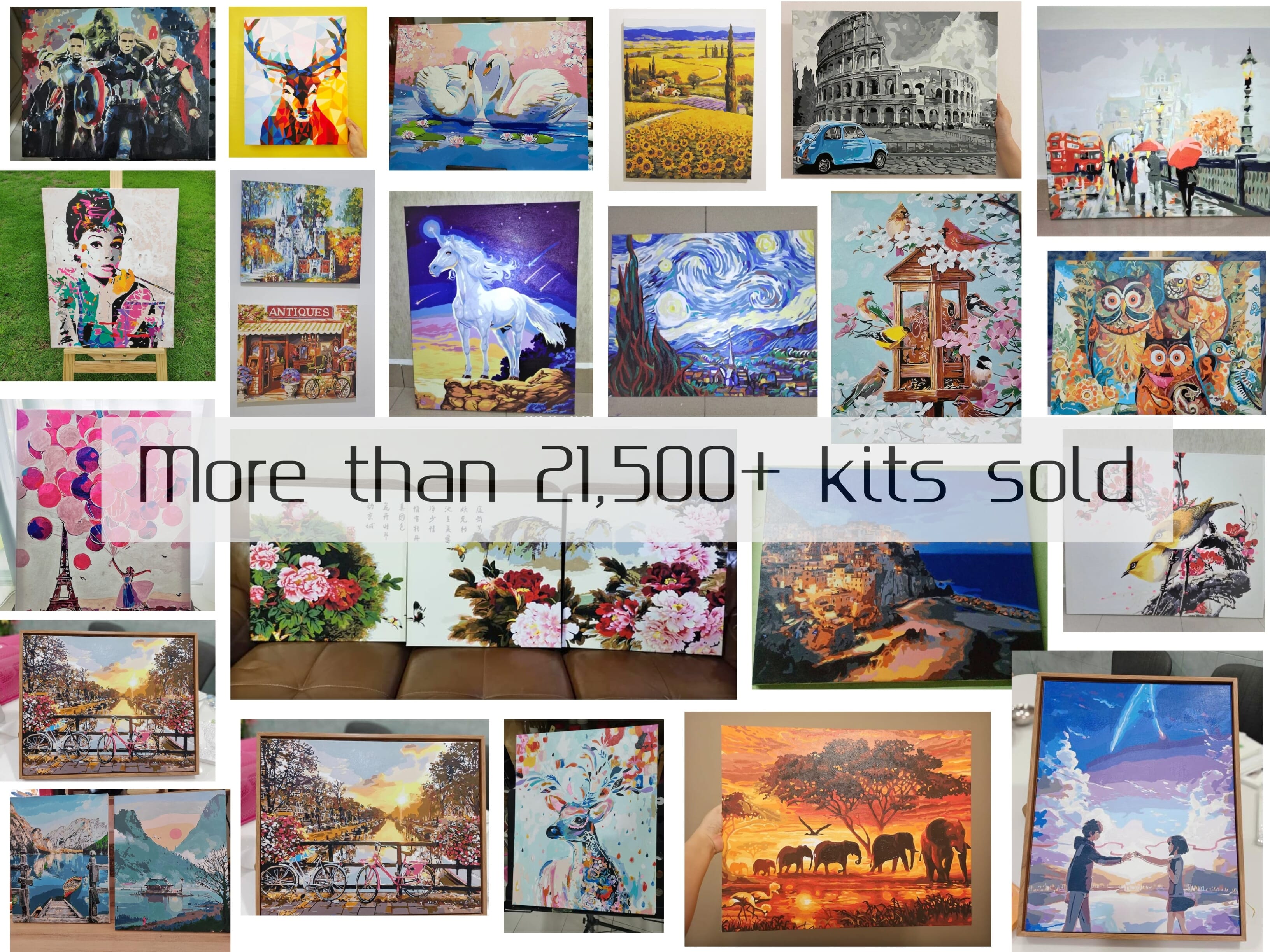 ---
– Featured In –
Why Should You Try Paint by Numbers Kits?
If you are beginner in painting
If you like to be artistic, but don't have the creative DNA in you. You will create an awesome painting with paint by numbers kit. It is nicely numbered and clear enough to see what colour to use. This paint by numbers kit helps you a lot to learn painting as a beginner.
With The Easy-To-Follow Method, You Can Create A Beautiful Artwork For Your Home, As A Gift and Even To Show Off.
If you are painting enthusiast
If you are painting enthusiast, you would have so much as much as relax feeling by doing to this after long day at work. The acrylic colors of painting are just beautiful! Richly colored acrylic paints dry quickly and no mixing is needed. You will love to see your finished work hanging up at your room.
If you looking for a stress relief hobby
Painting has a relaxing effect that can be beneficial, even it is practiced as a therapy to relieve stress. You are so focused on the painting and colors that you forget those problems you used to stress over so much. The repetitive movement you make as painting allow your mind rest and calm down. Having a clear objective and focus to accomplish it helps you to get rid of any negative emotion while you paint.